Posted on
May 9th, 2009
by Breaking News
PRESS RELEASE
9 May 2009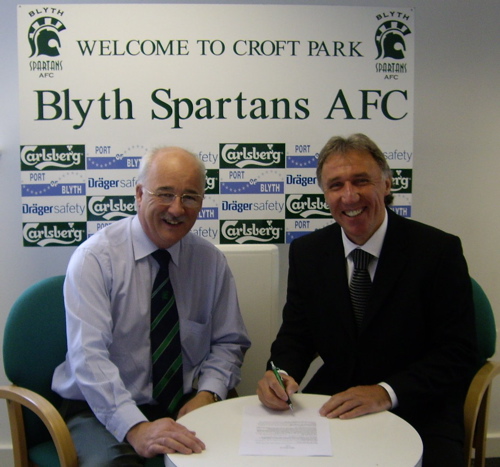 Blyth Spartans have announced a replacement for manager Harry Dunn who left the club at the end of the season.
Mick Tait, the former Hartlepool and Darlington boss, takes over the Croft Park club with immediate effect.
"We are absolutely delighted that Mick has agreed to join us," said Spartans Chairman Tony Platten. "He brings a wealth of experience and much enthusiasm which will help us improve on our league form and provide a springboard for promotion to the Blue Square Premier."
53-year-old Tait, who holds a UEFA level B coaching badge, acknowledges the club's long-term plan.
"The standard is high in the Blue Square North and I agree with the Board's desire to focus on long term progress and not simply a short term fix.
"I really enjoyed managing Blyth in 1999 but the club is now financially secure and I'm convinced that I can help it realise its potential. I know the passion of the Blyth supporters and what the club means to them. If we can get bigger crowds by playing good football then the next few seasons will be very exciting indeed!
"My football career spans four decades and I have gained vast experience as a player, coach, scout and manager. I feel I can bring all these attributes to Blyth and use them to build and develop the club."
Tait is giving consideration to the appointment of a possible assistant and hopes to make progress on that front this week.
He has seen Blyth play a couple of times this season and already knows some of the players.
"I had Chris McCabe and Gareth Williams with me at Hartlepool and Shaun Reay was in my youth team at Darlington" he said.
Filed under: 1st Team, 1st Team News