Posted on
January 4th, 2010
by Spartan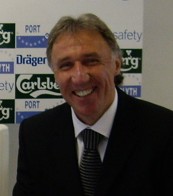 'Out with the old and in with the new' is a popular aphorism as the New Year takes its first faltering steps.
Blyth Spartans' manager Mick Tait actually started that process during the start of the season, rather than the New Year, disposing of the majority of the FA Cup run squad of 2008/9. But he is currently concerned that the lack of games due to the inclement weather might mean that his side's confident pre-Christmas strides towards successful and prolonged success may suffer.
"I'm very frustrated by the lay off on several levels," he said.
"We want to be playing football – that's what we do! On top of that we were just hitting a bit of form before Christmas. We were building nicely and were looking forward to a good spell. Everyone was buzzing and things were starting to click into place.
"The other thing is that we're now facing a fixture backlog which will see us having to play at least 24 games within three and a half months. That's a tall order."
Tait added, "Getting much training in has been tricky too. The opportunities to work outdoors have been virtually nil, although we have been down to Tynemouth. We've had a few indoor 5 a side sessions but other than getting a bit of a sweat on we can't really achieve too much from that."
Defying the 'out with the old and in with the new' adage is the re-signing of centre back Richard Pell - a stalwart of last season's celebrated FA Cup run. Pell is bound to add height and composure to the Spartans defence.
"I'm very pleased to have Richard back at Blyth," commented Tait. "He clearly did very well last year and it was a shame to lose him due to him having to move out of the area."
Fellow centre back, the on loan Rikki Bains, is continuing to struggle with a hamstring injury. His loan period, from Darlington, ends on 6th January and Tait would like to extend his time at Blyth.
On Saturday Blyth are at home to Guiseley in the FA Trophy. Plans for Tait to watch them were scuppered at the weekend due to the weather but he antipates a difficult tie.
"Although Guiseley are midtable I think they're in false position. They have a decent record, concede very few goals and look set to finish well into the top half of the table."
Not one to make New Year resolutions per se Tait is nevertheless resolved to achieve his aim, stated when the season began – to finish in the top half of the table. A prolonged run in the Trophy would be a bonus.
Filed under: 1st Team, 1st Team News