Posted on
March 7th, 2010
by Spartan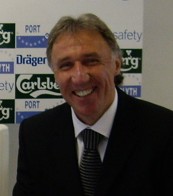 Illness and injury are endemic at Blyth Spartans. It's possible that a skull and crossbones will need to replace the Spartans logo on the dressing room door with the slogan – 'Abandon hope all ye who enter here'.
Despite a roll call of the sick and the lame which would challenge an American Oscar winner's thankyou list for length manager Mick Tait, himself far from 100% with a persistent infection, did not simply put his side's 1-0 defeat at home to Northwich Victoria down to lack of numbers.
"We played very poorly," he said. "We didn't get into the game till the last 20 minutes. Northwich had chances, in the first half especially, but Jack Norton did well in goal for us and they missed the target on a couple of occasions when they might have scored.
"We were missing four or five players with others playing despite illness but I've got to say we had decent replacements. Saturday was one of those days when nothing was clicking despite us working hard, which we had to do to stay in the game. We struggled to put passes together and overall it was a bitty performance".
Blyth were missing the drive of Chris McCabe and Michael Tait in the centre of the pitch. The former out with a broken leg and the latter being confined to bed all week and struggling to keep down food or drink.
"We could get on OK without one of them but missing them both really hurts us," said Tait. "Stephen Turnbull and Neal Hooks are good players but we missed the steel of McCabe and Tait."
Tait praised his central defenders Richard Pell and home debutant Stephen Foster. Forster, the former Darlington captain, signed for Blyth during the week while Pell picked up the Port of Blyth Player of the Month award before kick off and the Man of the Match award after the final whistle.
They make for an imperious pairing – strong in the air, quick to the tackle and perceptive in distribution.
"They certainly did well. Pell has settled in on his return to the club while Foster's experience will help us get back to winning ways," commented Tait.
The visitors had much the better of the first half with the nimble Mark Danks causing problems on Blyth's right but the sides went in level at half time. The Spartans brought on John Alexander for Josh Gillies, who had been struggling with a virus all week, for the second half but conceded six minutes after the restart when John Brackstone was turned and Jamie Vermiglio was on hand to steer the ball wide of Norton's left hand and into the net.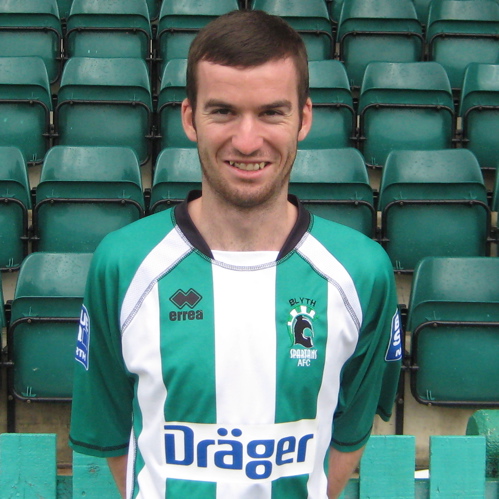 The final quarter of the game saw Blyth produce their best football. Striker Paul Brayson, playing without the injured Ian Graham alongside, created chances despite starting to feel unwell in the morning but it was no coincidence that the improvement coincided with the introduction of Simon Todd who replaced Guy Bates, the former Newcastle player not being fully match fit. Todd has seen little football recently but made a significant impact.
"I wanted Simon to get on the ball and pass it around and that's exactly what he did. He picked out Robbie Dale on our left a couple of times showing good vision. I was really pleased with him as he hasn't had a sniff recently".
Not having a sniff is actually quite a rarity around the Blyth squad at the moment when others are falling like flies.
Tait was honest enough to say that although Blyth pressed well towards the end his side didn't deserve a point from the game.
"It was hard for us with what was like a new side out there. It's like if you look at some friendly international games when a side makes five substitutions at half time it seldom works," he suggested.
Robbie Dale came closest to equalising for Blyth when he jinked first one way then another past three defenders – like pinking shears through silk, only to see his curling effort spectacularly tipped away by Aspden in the Northwich goal.
Blyth entertain Workington this Tuesday and following his side's 3-1 defeat to the Cumbrians last week Tait is looking forward to a better performance despite being short of bodies.
"I'll be looking for an improved showing on what we produced over there. Missing a number of players broke our rhythm up a bit in that game and Tuesday's match will be no different. We started OK in the away game but didn't defend as a team. They outworked us rather than outplayed us and this is something we must change this time around. It we play like we did against Northwich though we won't win many games."
The return of right back Stephen Harrison after suspension gives Tait an interesting decision to take – where to play captain Gareth Williams who has been occupying that position in the interim and bearing in mind the effective central defensive partnership of Pell and Foster - Williams having been Pell's partner there all season.
The chances are that as Williams has been struggling with an injury for several weeks he may be rested and find himself on the bench.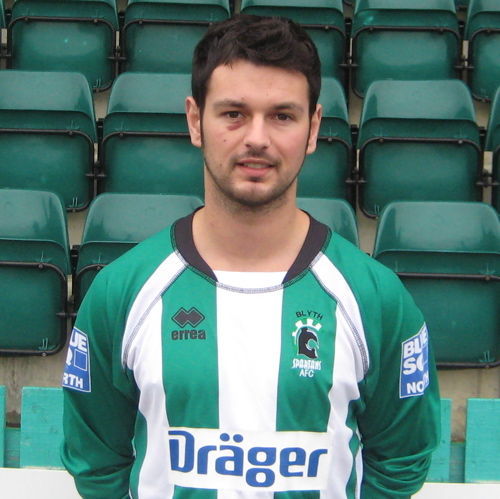 Tait made another signing last week. 23 year old Dan Smith the former Sunderland and Aberdeen left sided player, who had trials at Hartlepool in the summer, has joined the club with a view to returning to match fitness after a lay off and with an eye on next season.
Left back or centre half Darren Craddock is likely to be out for several weeks with a foot injury.
Despite his walking wounded and indeed those incapable of even walking, Tait will be hoping that it will be Workington midweek and then Ilkeston on Saturday who are left looking sick as Blyth get back to winning ways.
Filed under: 1st Team, 1st Team News